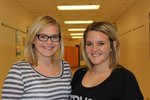 Shea Steakley and Clari-Jane Newman are pictured.
This year, Oneida High School's student body is growing. In 2016, we're welcoming twenty-six new students: sixteen freshman, five sophomores, two juniors, and three seniors. With transfers everywhere from Lindsay, Oklahoma, to just down the road at Scott High, we spoke with the new members of our tribe to get their perspective on what it's like to be the new kid on the block.
Although most of our new students are happy to be Oneida Indians, we were curious to what they missed most about where they came from. We asked Tyler Kuhn, a senior, what he missed most about his old school in Chattanooga. "I miss the city and all the things there were to do in Chattanooga." Tyler told us.
We went on to ask Shea Steakley to elaborate on the things she liked about Oneida. Shea says, "I like the cell phone policy and the hour and a half classes." She went on to tell us, "I'm a fan of the cell phone policy because at my old school they weren't allowed, so this was a step up."
Our new students are super enthusiastic about playing sports and joining the clubs that we offer here at the high school. Clari-Jane Newman is a new freshman. When we asked her what extra-curricular activities she was planning on participating in, she said, "I'm playing soccer, and I'm taking drama next semester. I'm super excited!"
They are excited, and we are just as excited about having all of these new students become part of our school!